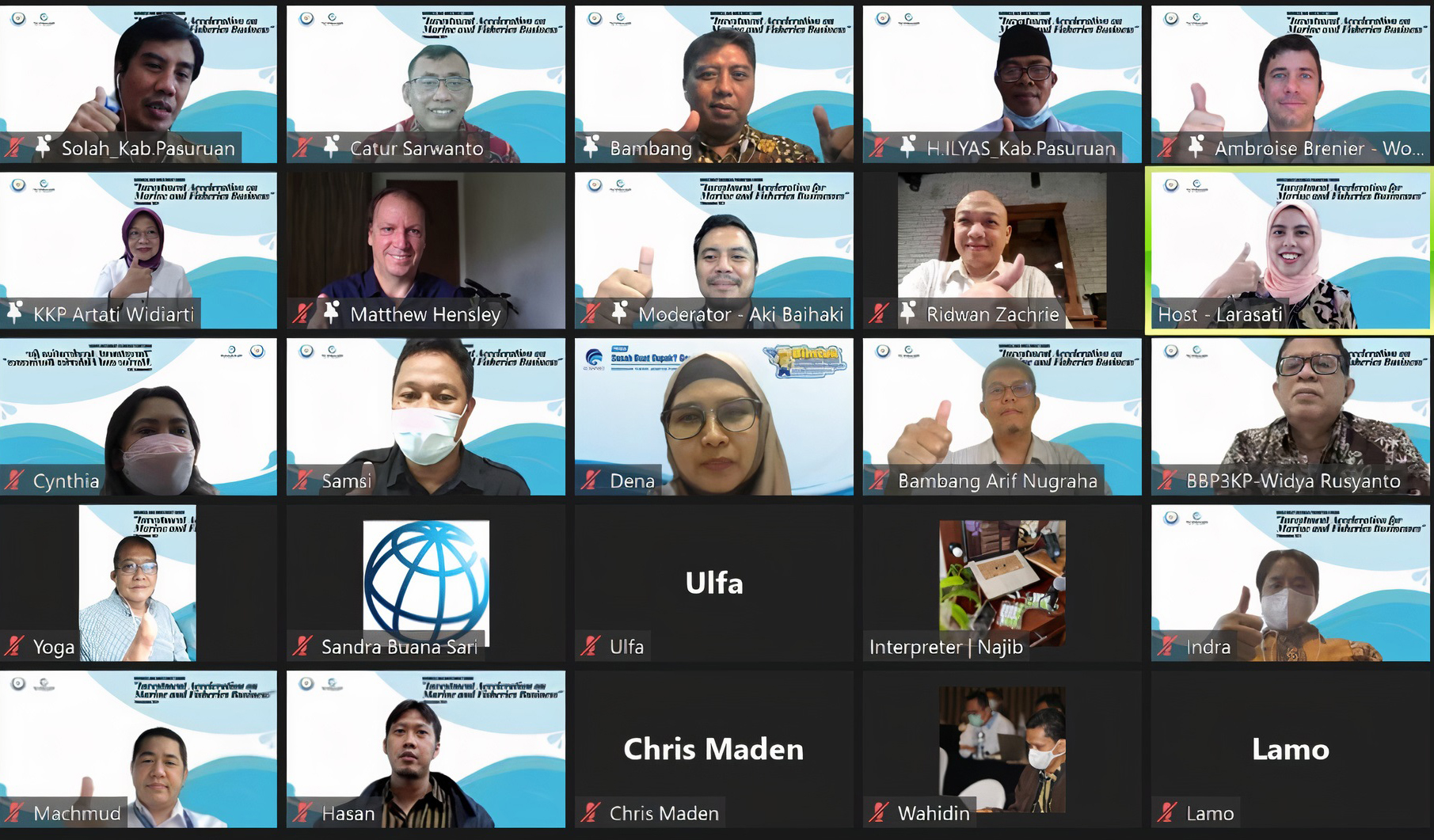 On Tuesday 7 December 2021, the Ministry of Marine & Fisheries in collaboration with the World Bank held an "Investment Business Promotion Forum" with the theme of Accelerating Marine and Fisheries Business Investment.
This Business Forum aimed to attract investment in the Marine and Fisheries sector, both foreign and domestic, and was officially opened by Mrs. Artati Widiarti (Director General of the Ministry of Marine & Fisheries.)
In the roundtable discussion forum hosted by Mr. Achmad Baihaki (Senior Oceans Specialist) from the World Bank, featured speakers including Ridwan Zachrie (CFO of Seven Stones Indonesia) spoke around the theme of: Investment-ready Businesses that are Attractive to Investors.
Other speakers included among others: Matthew Hensley (President of Planet Partnerships LLC) who presented two potential projects in the Canning Business (by Mr. Bambang Tri Mulyono from Mina Bahari 45) and in Shrimp Farming (by HM Ilyas with the shrimp farming project in Pasuruan Regency, East Java).
In his presentation Ridwan Zachrie introduced Seven Stones Indonesia and their Seven Core Business Areas, which include: Property & Real Estate, Information & Communication Technology, Intelligent Transport Systems, Energy, Tourism & the Creative Economy, Heavy Industry and a detailed discussion focused on Fisheries & Aquaculture.
Zachrie conveyed the importance of understanding the Norwegian market for Fisheries and Aquaculture and he delivered two main points. First, that in general there are no import restrictions on exporting products to Norway and most of the products are tax free. Followed by the importance of following normal health protocols and that most of the market will require some kind of sustainability certification.
Norway is well-known as one of the best in the world in the Aquaculture Industry, a point which Zachrie reinforced when he told participants that Norway is the largest exporter in the world of farmed salmon and the second largest exporter for fish products. He said Norway has a highly developed industry in this sector, which uses the latest technology to secure good products and grades and has the ability to produce tracking and tracing using the latest block chain technology from the fishermen to the consumer.
In the discussion session, many questions were asked to Seven Stones Indonesia, which showed how much interest there is in the Aquaculture and Fishery business sectors in Indonesia seeking strategic partnerships with investors from Norway.
For Seven Stones Indonesia, this forum has helped to make them one of the key players in Indonesia that has received the attention of the Fisheries and Aquaculture community as a reliable source for this industry.
The discussion forum which lasted for 3-hours was officially closed by Mr. Catur Sarwanto, Director of Business and Investment of the Ministry of Marine & Fisheries.
If you'd like more information, please get in touch with Ridwan Zachrie by email: ridwan@sevenstonesindonesia.com