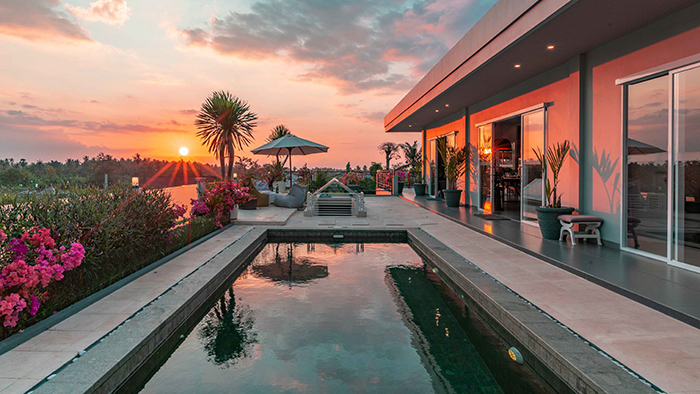 By Terje H. Nilsen, Co-Founder, Seven Stones Indonesia.
Have you ever envisioned yourself as a property developer, creating stunning real estate projects in the tropical paradise of Bali, Indonesia?
If the answer is yes, the thought of transforming the island's landscapes, designing luxurious villas, and contributing to its booming tourism industry is undoubtedly exciting. In this blog, we will guide you through the essential steps and considerations to embark on a journey towards becoming a property developer in Bali.
Today everyone from a crypto-rich-kids, to parents having a sabbatical year with kids going to school in Bali, to a well-established family business, everyone, it seems, is a developer.
So, what's the best way to make this dream become a reality?
Research and Familiarize Yourself with the Bali Property Market
Before diving into property development, it's crucial to understand the unique characteristics of the Bali property market. Conduct comprehensive research to learn about market trends, local regulations, popular areas, and the target demographic for your projects.
Studying successful developments and consulting with industry professionals will provide valuable insights and help you make informed decisions. Too many people skip this and take the attitude of "build it and they will come" or even with an off plan development, "I might build it and they will come".
Look at each area's demographic and type of property as well as price points that may be suitable. Accurate data is not easy to find in Bali but some of the more serious developers, or agencies may give you some guidance.
Develop a Business Plan
Just like any other entrepreneurial venture, a solid business plan is the foundation of your property development journey. Define your vision, goals, and target market. Assess the financial feasibility of your projects, including acquisition costs, construction expenses, marketing budget, and potential returns on investment. Seek professional advice if needed, to ensure your business plan is comprehensive and realistic.
I repeat seek professional advice, solid contracts, solid third party consultants to ensure the quantity and quality spelled out in agreements. Find contractors with a clear track record and references they can share with you.
Understand Local Laws and Regulations
Navigating the legal landscape is crucial when venturing into property development in Bali. Familiarize yourself with zoning regulations, building codes, environmental requirements, and land-use restrictions.
Engage the services of an experienced local lawyer or consultant to guide you through the legal processes and ensure compliance with all relevant laws. Indonesia and Bali is constantly upgrading its legal system, for the better I might add, but every month there will likely be some new regulations relevant to what, where and how you should develop a site, recent rice field protection laws and firmer zoning regulations, are examples of this.
Build a Strong Network
Establishing connections within the local industry is essential for success as a property developer. Attend industry events, join real estate associations, and network with professionals, including architects, contractors, engineers, and real estate agents.
Building a reliable network will provide you with access to valuable resources, industry knowledge, and potential business partners. As well as those that have done it before, because this will give you stories, both good and bad, to learn from.
Identify and Acquire Suitable Land
Finding the right piece of land is a critical step in property development. Consider factors such as location, accessibility, proximity to amenities, and potential for growth. Engage with local real estate agents and explore online platforms dedicated to property listings in Bali.
Conduct thorough due diligence, including land ownership verification, infrastructure availability, and land use restrictions. Make sure what you can build, what density is allowed, what the building codes are, what usage rights apply to the area and much more.
Design and Development
Once you have acquired suitable land, engage the services of an experienced architect and design team to create a compelling and marketable development concept. Collaborate closely with professionals to ensure your project aligns with market demands, local preferences, and aesthetic appeal. Obtain the necessary permits and approvals from local authorities before proceeding with construction.
It's critical that this is all in accordance with rules and regulations as any changes will impact the cost of design and also the eventual construction. Make sure you have a through flow that's functional for the purpose of the property.
Project Management and Construction
Selecting a reliable project manager and construction team is crucial to ensure your vision becomes a reality. Supervise the construction process closely to maintain quality standards, adhere to timelines, and manage costs effectively.
Regularly communicate with your team, address any issues promptly, and conduct periodic site visits to monitor progress. Skipping this part will cost you dearly both financially as well as in quality and possibly the time of delivery and hand over of the property.
Marketing and Sales
Develop a comprehensive marketing strategy to showcase your project to potential buyers or investors. Utilize both online and offline channels, including social media, property portals, and local advertising. Collaborate with reputable real estate agents specializing in Bali's market to expand your reach and increase visibility. Host open houses and property showcases to engage with prospective buyers directly.
Direct marketing by a foreigner may not be fully allowed and can create issues, and there are strict laws in terms of permits to engage and operate as a real estate agent. Breach of this may cost you billions of rupiah.
Project Completion and Aftercare
Once your project is complete, ensure a seamless handover process to the buyers or property management team. Provide aftercare services to address any post-construction issues and to maintain a positive reputation. Building strong relationships with clients can lead to future referrals and potential partnerships as well as other projects you may have planned.
Becoming a Property Developer in Bali, Indonesia With Seven Stones Indonesia
We can support you in all of above points as well as helping you secure land and legally set up structures for your buyers making sure they are in compliance as well.
At Seven Stones Indonesia, we are your Partners in Growth, and we can handle all aspects related to legalities, taxation, finances, immigration/ visas, and project development matters with integrity, expertise, and trust.
With 15-years of experience operating in Indonesia, we focus on delivering high-quality services to our clients, so, if your dream is to develop in Bali, schedule a free consultation with our experts today!
Email us: hello@sevenstonesindonesia.com
Call us: +62 (0) 877 77 11 7701
Or visit our website to review all of our services: www.sevenstonesindonesia.com
#indonesia #indonesiabusiness #terjenilsen #immigration #taxservices #marketentry #realestate #investing #bali #immigration #taxation #legal #tax #bali #jakarta #surabaya #bandung #sevenstonesindonesia