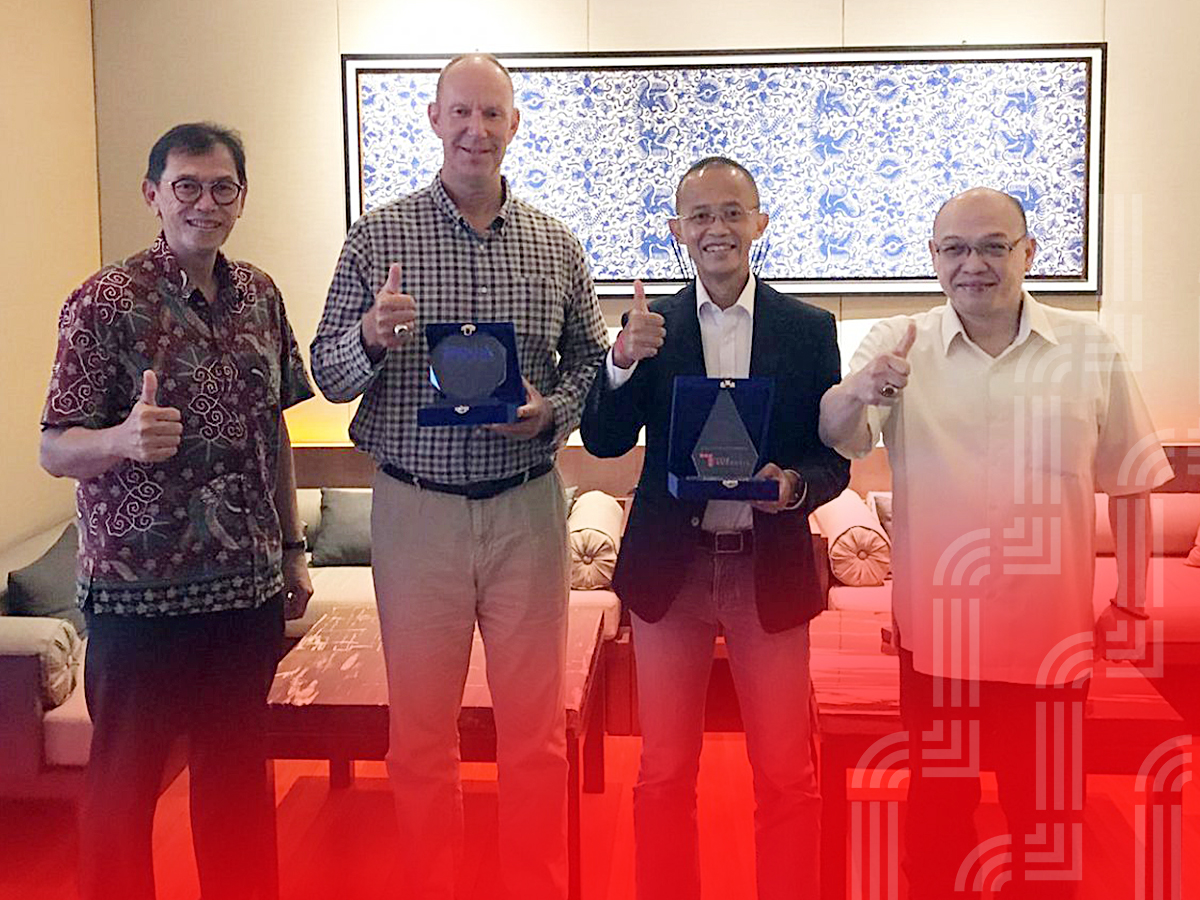 Following the recent signing of an MOU between PINA Center for Creative Financing and PT Seven Stones Indonesia, on Thursday, 6th January 2022 at Seven Stones Indonesia's office in Noble House Jakarta, the two parties held a ceremony to officially endorse the agreement, reaffirming their commitment to collaborate on several projects of mutual interest.
Both parties have agreed to work together to support the success of a variety of projects in several sectors including, among others, tourism, solar energy, the environment, marine, fisheries and aquaculture.
The ceremony was attended by the Co-Founder and CEO of Seven Stones Indonesia, Terje H. Nilsen, CFO of Seven Stones Indonesia Ridwan Zachrie and Eko Putro Adijayanto, Managing Partner of PINA Center for Creative Financing. Guests included S. Kartiko Wahyu Widodo, Specialist in Government Relations, and Versatile Business Fields, from PINA Center for Creative Financing and Retno Wahyuningtias, Director of Business and Development, from the Tjager Ruru and Rekan Law Firm.
Terje H. Nilsen, said that Seven Stones Indonesia is looking forward to progressing the partnership with PINA to develop and invest into strategic projects across Indonesia. Both parties believe that Indonesia's future is bright and the country will be a significant force after the pandemic especially when the government is supportive for Foreign Direct Investment.
In addition, Ridwan Zachrie, added that fellow investors from Nordic countries, particularly from Norway, have expressed huge interest to invest in notable projects across Indonesia. This fact can be underlined by the fact that from January to September, 2021 Norwegian investments into Indonesia amounted to USD 11.8-million, he said. Seven Stones Indonesia and PINA, will maximise these opportunities by identifying more projects that can benefit all concerned.
Eko Putro from PINA Center for Creative Financing concurred with the sentiments expressed by Seven Stones Indonesia and reaffirmed the Indonesian Government's investment policy that has targeted IDR 1,200-trillion or USD 84-billion in Foreign Direct Investment, and Indonesia's commitment to ensure transparency to locate, invest, grow, and create more jobs.
There is no doubt that Indonesia is a country with enormous potential and opportunities. PINA aims to realize these opportunities, together with Seven Stones Indonesia, by attracting strategic and financial investment to Indonesia by making it easier to navigate through Indonesia's investment ecosystem, identifying potential projects and then ensuring successful outcomes. Strength lies in being able to adapt to change which is why PINA will diversify its business to target renewable energy, tourism, electric vehicles and the digital infrastructure.
PINA Center for Creative Financing is a legal entity engaged in financial advisory services and investment management and is a "Global Local Company" that builds and develops the bridges to collaborate between foreign partners and Indonesian opportunities. The company began as a government investment facilitation unit following President Jokowi's direction on the importance of "creative financing" to attract Foreign Direct Investment. Now they have transformed from a government unit into a fully private company, while retaining strong government ties.
Seven Stones Indonesia provides a range of business services, including but not limited to, market entry, country representation, consultancy and advisory services, tax and accounting packages, marketing services, in the region. Seven Stones Indonesia is a partner of Norway Connect, supporting Norwegian business in Indonesia and Southeast Asia through its representatives and facilitates the provision of financing and investment through its networks which covers the area of heavy industry, aquaculture, marine and fisheries, Information and Communication Technology (ICT), Real Estate and Property, Holistic Tourism and creative economy, green energy and Integrated Transport Systems (ITS).
PINA Center for Creative Financing is currently working on various projects involving both private and government related sectors involved with strategic and financial investments, start-up companies, and other interesting and bankable opportunities that may suit Seven Stones Indonesia's appetite and vice versa, which is why this strategic partnership is already collaborating to identify a number of potential projects that can move forward through various cooperation and financing schemes.
For further information and inquiries regarding PINA Center for Creative Financing you can contact
Eko Putro Adijayanto (Managing Partner of PINA Center for Creative Financing) through
ekoputro.adijayanto@pinakreatif.com
For further information regarding PT Seven Stones Indonesia, you can contact
Ridwan Zachrie (CFO of PT Seven Stones Indonesia) through