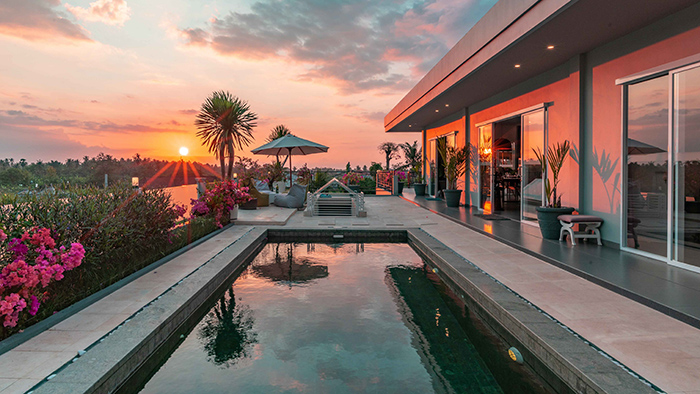 Although the origins of the phrase, 'a picture is worth a 1,000-words,' are debatable, the meaning is universally understood as there's often more information in an image than finding words to describe it. And if we're OK with that assumption, then it makes sense that the better the picture, the better the words would be to describe it.
This is something we wrote about a few years ago when we first started Seven Stones Indonesia and it's still something we fell needs attention if you're investing in, or dealing with, real estate, because it seems there are still some people out there who think it's OK to try and sell property with second-rate, smart phone photos.
In one of our weekly marketing and branding meetings the team presented an idea aimed at vendors to help them see the value of using professional photography if they want to sell a house, villa, apartment or commercial space. Makes sense, right? So, I'm going to try and explain why you should consider using our professional photographers and videographers to help market your property and hopefully, sell it faster.
Let's start with an article written by Shannon O'Brien on the Market Leader website. Her excellent piece entitled: Back Away From the iPhone and Hire a Photographer was written way back in 2013, and way before the latest iPhone 14 mega-pixel-all-in-one-camera-phone-computer-gadget made everyone a famous photographer like David Bailey, but the sentiment is as true now as it was then.
O'Brien begins with a question we ask each and every vendor wanting to list with Seven Stones Indonesia.
"Are you really taking photos of your house with an iPhone? You're asking five hundred thousand dollars, right?" we ask.
There's usually an awkward silence, like we've caught naughty kids with their hands in the cookie jar, so, we continue. "How's that working out for you?"
The vendor has no choice but to tell the truth. "Erm, it's OK, but not actually as well as I'd hoped for to be honest," is the rather timid reply. "Nobody seems to be interested in our beautiful house."
"Really? Now there's a surprise. Why do you think that might be?" we ask.
The vendor quickly snaps back, "You're the real estate agent, you should know how to sell my property! You tell me what's wrong and why it's not selling!" We've obviously hit a nerve and ruffled some feathers.
"Well, we do know why actually. And that's why we always recommend you take professional photographs. Your house will look much better and the chances of it selling faster increase."
The awkward silence returns, because deep down, the vendor also knows that professional photographs help sell things, including property.
There are many studies out there that suggest very strongly that real estate listings engage and (hopefully) lead to sales because of that all-important first impression; that means the photos.
Believe it or not, first impressions DO count, especially when you're competing against the rest of the world and a whole new breed of smart-phone photographers who wake up one morning convinced they're better than someone with training and professional experience.
O'Brien and the Wall Street Journal argue that you only have one chance to impress; a scant two seconds to grab a buyer's attention without a photograph, and 20-seconds with one.
As it goes, that's not a lot of time for that first impression. If you need proof of this just have a look at the Google analytics for your website to see what most people spend time on (and what they don't.) Truth is, if you have a great image people engage. Have an obviously home-made snap and they don't. That's simple. It's not rocket science folks.
"What's the incentive?" asks the still unconvinced vendor. "For me? I mean why should I spend money doing this, when I've got my iPhone? And anyway, shouldn't the real estate agent take the pictures? They're the ones getting all the commissions, so I don't think I should have to pay for that as well."
The short and polite answer to that is, "No! Professional realtors are not professional photographers. You know, the right person for the right job."
The real estate agent is focused on finding the right buyer for the right property and making the whole process as seamless and as enjoyable as possible. Their job is not to take second-rate pictures on a smart phone, just because you don't see the value of creating a positive first impression. I'm sure you've heard the old adage, 'if you think it's expensive to hire a professional, wait until you hire an amateur.'
O'Brien gives the perfect example when she asks, would Phil Knight (the Co-Founder and Chairman of Nike) whip out his smart phone and snap random photos of a pile of athletic shoes to be used in Nike's print advertising? Obviously not! You know he'd be hiring professionals.
Pepper Productions write that "using quality, professional photography and video content across your website, social media and other digital channels not only catches the reader's interest but also improves your visibility online. Images and video content are one of the most valuable tools for getting better results from your content. Visitors are 80-percent more likely to engage with content if it's paired with an image and 64-percent more likely to remember what they read or heard."
Here are three solid reasons to bite the bullet and use professional photographers instead of your smart phone.
First Impressions Count (a lot!)
You don't get a second chance to make a first impression. Kylie Schwartz, writing at Start Blox, says first impressions last well beyond that first moment because of something called the 'Primacy Effect,' which means that when someone experiences something before other things in a sequence, they remember that first thing more. And when you're looking for property, chances are you're going to filter through a lot of options before you start making a short-list. Remember, you want to be on that short-list!


Stand Out From The Crowd
There are literally dozens of real estate agencies in Bali and even more real estate agents, either working for those agencies or for themselves. All of them are trying to stand out so they can sell your property but nearly of them will be using the same images, as one property is usually listed across multiple platforms at the same time, or they'll be using their own smart phone WhatssApp snaps. Stand out from the crowd and let professional photography be a powerful marketing tool, which can lead to more potential buyers clicking on your property.


Show How Much You Value Your Property
A buyer is going to be more attracted to a vendor who sees the value of presenting their property in the best possible light. Put yourselves in the shoes of a buyer who's looking to spend half a million, or a million dollars or more on a dream villa. They come across a villa you've built from the ground up with blood, sweat and more than a few tears only to find poorly lit, badly composed images with "WhatsApp Image" in the picture title. It's a sub-conscious connection that works across every business; if something looks like you spent time, energy and love making it be the best it can be, then the chances of connecting with someone who appreciates and values it in the same way you value it increases.
The Washington Post suggest that 84-percent of home buyers said they wouldn't even consider a property that didn't have listing photos while 87-percent of home buyers relied on photos to help make their decision, according to the National Association of Realtors.
Professionally photographed homes sell 32-percent faster than other listings, according to VHT, a real estate photography company and professionally photographed homes command a 47-percent higher asking price per square foot, according to Redfin.
So, if you're a motivated vendor looking to sell your property for the best possible price, take our advice and talk to us about using our professional team of photographers and videographers, who also have pretty mean drone skills, we might add!
If you'd like to learn more about selling property in Indonesia get in touch with us today through hello@sevenstonesindonesia.com