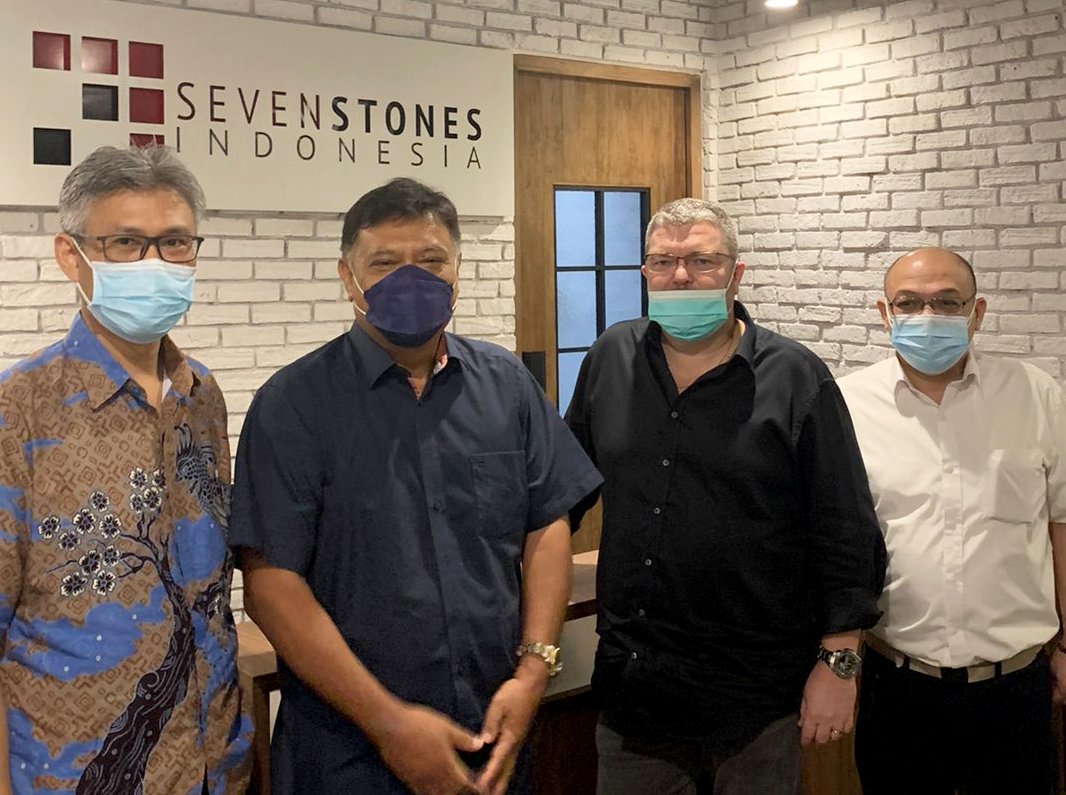 JOINT PRESS RELEASE – FOR IMMEDIATE RELEASE
On Monday, 15th of October 2021, PT Pembangunan Sulteng and PT Seven Stones Indonesia signed a Memorandum of Understanding to establish partnerships to jointly seize opportunities and facilitate partnerships with investors to execute the work of the Central Sulawesi Potential Projects.
The MOU was signed by Mr. Leomirnandi D. Karamoy, the President Director of PT Pembangunan Sulteng and Ms. Lisa Comsatun, Director of PT Seven Stones Indonesia and witnessed by Mr. Per Fredrik Ecker as the Chairman of the Indonesia Norway Business Council.
PT Pembangunan Sulteng is a business entity currently wholly-owned by the Central Sulawesi Government in the form of a Limited Liability Company, organized under the laws of Indonesia and mandated under the regional government regulation (PERDA) to enter various businesses among others in fisheries, farming and other agrobusinesses, energy, mining, property, trading, services, education and transportation.
Central Sulawesi is the largest province on the island of Sulawesi (also known as the Celebes) and is one of the largest nickel producers and has the highest cocoa production in Indonesia. The Togean Islands and Banggai Laut Islands are also popular tourist destination spots in Central Sulawesi.
The region's capital of Palu will be the closest neighbouring city in Sulawesi to East Kalimantan, where Indonesia's new political capital is being relocated to from Jakarta. In addition, the Special Economic Zone of Palu is located in the strategic and busy marine and sea traffic lanes (ALKI 2) connecting international trade from Africa to Southeast Asia and Asia Pacific, and from Australia to Southeast Asia and other Asian Pacific regions.
PT Seven Stones Indonesia is a company engaged in facilitating companies from the Nordic region that conduct business activities in Southeast Asian countries including Indonesia and is located in Bali and Jakarta.
The INBC (Indonesia Norway Business Council) is a non-profit organization, dedicated to serving its members – the Indonesia-Norway business community. INBC is the bridge connecting Indonesian and Norwegian business interests and representatives.
The potential markets to be explored under the agreement include, among others, the fisheries and marine sector, energy and mineral potential, the potential of agribusiness and the potential of tourism both in government and private circles and for both investment and trade projects in Central Sulawesi.
This MoU signing is the opening step for each party, and each party will ensure the realisation of this cooperation and monitor the process on a regular basis. it is hoped that this mutual cooperation between Seven Stones Indonesia and PT. Pembangunan Sulteng can drive the economy of the Provincial Government of Central Sulawesi as well as build and develop the potential that exists in the Province of Central Sulawesi in general.
For further information regarding PT Pembangunan Sulteng, you can contact:
Sony P Widianto (Planning and Business Development Director)
Email: Sony.Widianto@ptps-sulteng.com
For further information regarding Seven Stones Indonesia, you can contact:
Ridwan Zachrie (CFO of PT Seven Stones Indonesia)
Email: ridwan@sevenstonesindonesia.com
For further information regarding the Indonesia Norway Business Council, you can contact:
Per Fredrik Ecker (Chairman of INBC)
Email: execsec@inbc.web.id