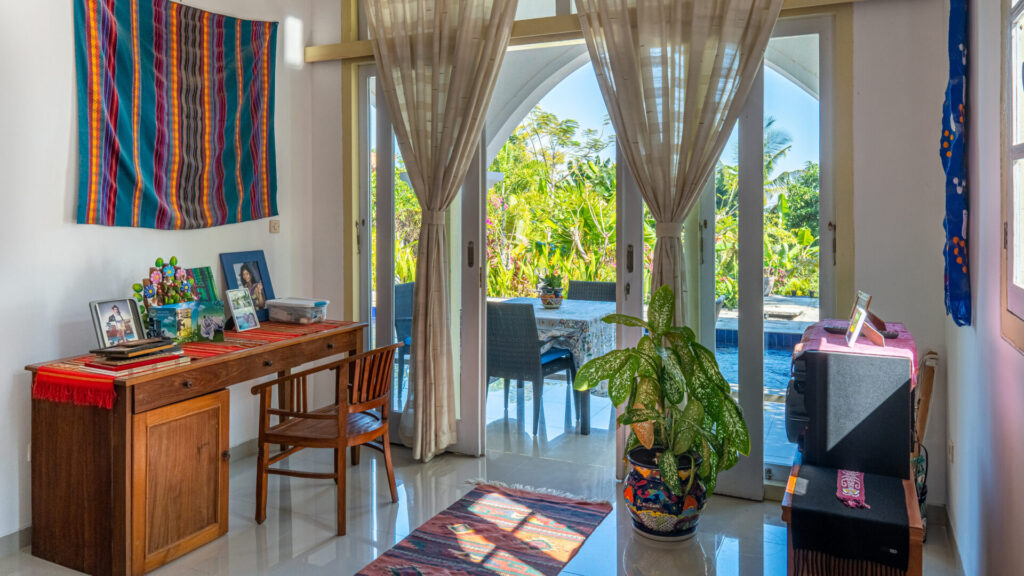 We all know that Bali is a beautiful tropical island and also quite a popular destination for travellers from all around the world. Bali is known for its vibrant culture, friendly people, stunning beaches, exotic nature and warm sunshine weather. Though the people in Bali are especially known for their kindness and community way of living, this does not mean it doesn't have its share of safety concerns. While the island is considered relatively safe, one can still be vigilant and take precautions to avoid getting in harms way. Keep oneself and or the family safe. Here are our top tips to keep secure and safe while at your home in Bali.
Secure Your Home
This one is an interesting one, considering the mostly open living situation all around the island. But where possible, one of the most important things you can do upon first living here, is to make sure your home is secure. This means investing in good quality locks, and if you want something extra, a good security system such as a motion sensor or alarm. Some villas or residences will have a night time security guard stationed usually at the front entrance. Though we cannot say for sure, what the reliability percentage is for that.
We advice that when you're not at home, to make sure that all doors and windows are locked. And not to leave spare keys lying around outside where they can be found. If not for thieves, then you never know when some stray dog might find that keys are in fact its new favourite chew toy…
Wild Animals
Bali is home to a myriad of wild animals, and though not all are dangerous, we can recommend that you do some research on which to look out for. If you live near rice fields, expect the occasional snake to come in for a visit. This does not happen very often though, and even if it does, the rice field snakes are not that dangerous and are generally more afraid of you than you of it, probably.
If you're not too comfortable with the common insects or bugs or geckos, then you might want to find a way to create some more indoor space. Most of the housing plans in Bali are open living, but there are definitely ways around this. Though it is difficult to avoid the lurking geckos, pest control can easily take care of any insect or rodent related issues.
Be Aware of Your Surroundings
Aside from the wild animals, like any place when out and about, it is common sense to also be aware of your surroundings. Though we find Bali is an island that is relatively safe, if one does choose to take a walk home alone at night, keep to busier streets and well-lit areas. And when leaving the house, we suggest not taking your valuables with you, or large amounts of cash.
Transportation Service
We're all probably aware of the common term "don't talk to strangers," and while this is different when it comes to transportations services (as you are technically jumping into a strangers' car), it is still important to be aware of which services are reliable. In Bali (like most of Indonesia), the commonly used transportation service (aside from renting your own driver, or car) is Gojek, or Grab. With these you can also order food, send items, hire a e-learning service and many more things. Though the applications have a set price, some drivers or car rental services will try to negotiate with you. We recommend that you make sure to agree on a price first before jumping on anything, so as to avoid any surprises at the end of your ride.
Staying Protected from the Sun
Bali's tropical climate means that it can get very hot and humid. It's important to stay hydrated and though we love a good tanning session, it's important to be aware of the limits. A common consequence of too much Bali sun is a really bad sunburn, though sometimes it can get to a point of a heat stroke. Though this won't kill you, it might put a damper on your Bali trip to have to stay indoors and recover from too much sun. Try to remember to drink plenty of water (coconut water if you like it and want that extra vitamin C boost) and wear sunscreen and/or a hat to protect yourself from the sun's harmful rays.
Natural Disasters
Living in Indonesia, means living in a region that is prone to natural disasters such as earthquakes, volcanoes, floods or tsunami. Though these are not at all common occurrences, it helps to familiarise yourself with the emergency procedures of your area, and know how to respond if a situation were ever to occur. It's never a bad idea to keep a supply of water, non-perishable food, and other essentials on hand, and be prepared to evacuate if necessary. Again, we are lucky that it is a rare occurrence in Bali, and even if something were to happen, most commonly it is small earthquakes that don't do too much damage. But it helps to be aware and prepared, most especially to avoid the shock in our own responses.
Learn Some Basic Indonesian Phrases
Like any country you travel to, it always helps to know some basic phrases. Knowing how to ask for help or directions in the local language can make all the difference in an emergency situation. It can also help you connect with the locals and show that you respect their culture. Locals love communicating, and are very appreciative even if you only know one or two simple phrases. In our experience, this opens up a new level of warmth and kindness and of course people are always more willing to help when they see efforts of trying to communicate in a language they understand.
Overall, staring safe and secure in Bali is just about staying vigilant, prepared, and having common sense. The beauty of the island is that it is relatively safe, and filled with generous people who are generally trusting and hospitable. But by taking some precautions and being aware of your surroundings, it will only help in guaranteeing that you can enjoy all that this beautiful island has to offer, while also keeping you and your family, friends, or loved ones safe.
We hope you have found this article helpful, and if you want to know more about investment in Indonesia, visas, real estate, or business in general, please don't hesitate to reach out to us via hello@sevenstonesindonesia.com
We'd love to connect!